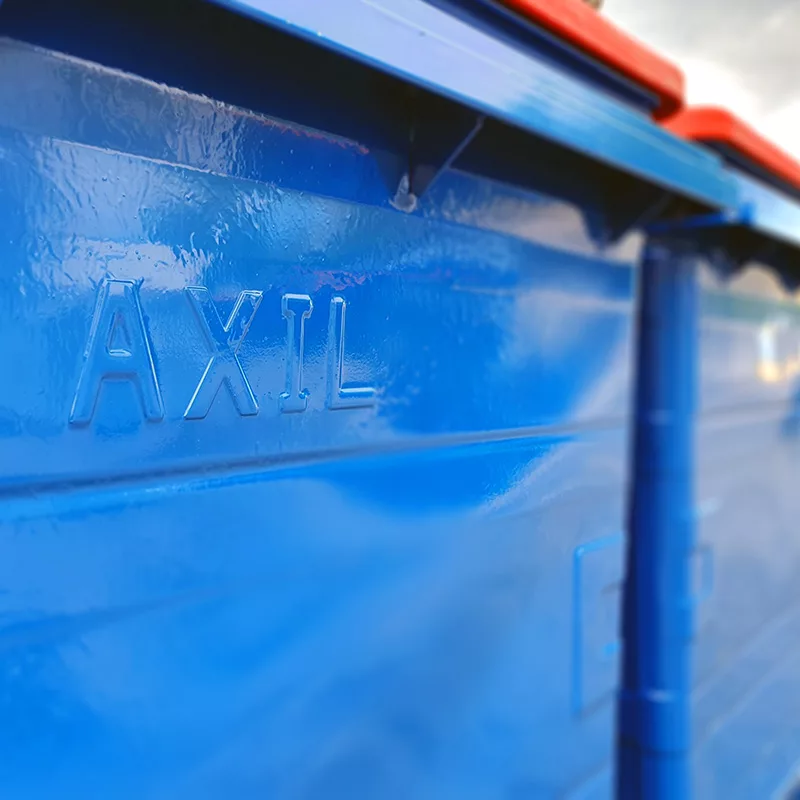 Total waste management company, Axil Integrated Services, has chosen UK manufacturer Egbert Taylor to build its latest order of HazPodTM products – a bespoke Taylor 1100L container equipped to collect and transport hazardous waste.
The 40-unit order, which signals success for Axil despite the pandemic, follows the Corby-based firm's commitment to growing its UK operation and backing UK manufacturers with a low international supply chain footprint.
The units will be used to support Axil customers operating in the manufacturing, food and medical supplies sectors.
James Cooper, General Manager at Axil Integrated Services, comments: "We're keen to significantly grow the business over the coming years. In light of the current pandemic, it's clear to us that in order to achieve high levels of growth we need to work with suppliers that can not only provide a high-quality product, but that also don't heavily rely on overseas supply chains. We're delighted to be working with Egbert Taylor and proud to back British manufacturing."
The UN approved HazPodTM is a reconfigured Taylor 1100L container designed to collect multiple hazardous waste streams, all of which need to be separated by colour-coded bags. Its secure, lockable lid prevents rainwater ingress and is vandal and tamper proof. Forklift points also facilitate easy loading and emptying.
Kevin Docherty, Area Business Manager at Egbert Taylor, adds: "Covid-19 has sharpened the focus of procurers up and down the UK, many of whom no longer wish to leave themselves vulnerable to overseas supply chains in the wake of major crises such as what we're currently seeing. This is a real turning point for UK manufacturers and I expect to see a major shift in the way UK organisations buy products post-Covid-19. Axil Integrated Services is a growing business with huge potential and we look forward to growing with them."
Egbert Taylor, which has produced the iconic Taylor bin since the 1960s, sources all of its materials within the UK. Its farthest supplier lies only 25 miles away from its Oak Park facility.
For more information on Axil and Egbert Taylor visit www.axil-is.com and www.egberttaylor.com respectively.