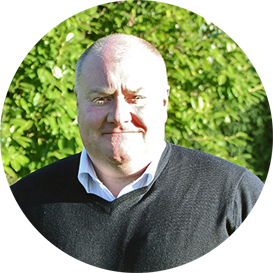 Back in 2010, when I first joined Egbert Taylor, the waste and recycling industry was completely new to me – I'd been in the fireplace sector for 14 years up until that point!
Within a couple of years I was fully up to speed. However, I was amazed at the rate at which the sector was developing.
In 2012, for instance, recycling rates were being analysed more closely and Zero Waste Scotland began to formulate a plan for Scottish Authorities, which included some pretty steep recycling rate targets over a relatively short space of time. In fact, an overall target to ban the disposal of waste through landfill and achieve at least a 70 per cent recycling rate by 2025 throughout Scotland was set out.
During this time we were seeing a steady increase in orders throughout Scotland as local authorities began to set out their own plans to achieve these targets. And, before long, demand for containers with recycling apertures had risen, councils had increased the number of recycling points and flats and communal properties were being seen as a way in which to make significant gains.
Despite the fact that Zero Waste Scotland was providing funding for local authorities with a viable plan – a factor that was contributing to Egbert Taylor's growing order book – one issue continued to provide a fly in the ointment: contamination. After all, if a container becomes contaminated with unacceptable levels, it risks contaminating the entire collection vehicle – a move that sadly sees ALL contents go to landfill.

By this point, Egbert Taylor had developed a suite of products to encourage recycling. However, providing the correct tools is one thing, but getting people to use them correctly is another.
Then, in 2017, after a meeting with our in-house research and development team, I became aware of two products that they were working on that I knew would address the issues facing Scottish councils. The first product was the Lid in Lid, which provided an aperture that matched the size of the type of waste it was designed to permit. The second was the T-Lock, a unique locking device that sees a container's lid click and lock shut in the same way that a car bonnet does, which means that people can't lift the main lid and indiscriminately throw bags of waste – regardless of what type of waste it is – over the top. It also means that the only people who can access the main container are those responsible for collecting its contents.

And then it hit me. Why not use both these products together in a 'belt and braces' type approach. After pitching my idea to South Ayrshire Council, Egbert Taylor was awarded the order for 1,200 Taylor Continental 1100L units fitted with these two secure measures, which we supplied in 2018.
Not only is the quality of the recyclate now at a level whereby it can all be processed through the MRF, meaning nothing heads off to landfill, but also South Ayrshire has reduced contamination by an estimated 35 per cent compared to previous methods and models employed. Since 2018, the council has ordered another 800 and we've even jointly won a National Recycling Award for the initiative.
Blackburn with Darwen Council has since followed suit, after I put them directly in touch with South Ayrshire, and many more councils nationwide are adopting the T-Lock in order to combat contamination.
So, what have I learned over the last decade?
Firstly, I've learned not to be afraid of combining a number of solutions and experimenting with their effectiveness. This move paid off for South Ayrshire and continues to attract the attention of councils throughout the UK.
Secondly, I've learned that effective recycling and contamination is the result of many variables working together. Yes, it's about providing the right bin, in the right colour and with the right message stuck on the front. But it's also about enhancing a bin's security, too.
If you can make the bin more secure, whilst providing the correct apertures for the type of waste you are looking to capture – and also make it easy for crews to unlock and ensure the bin is left locked every time it is emptied – then you're providing the user with less opportunity to do anything other than what they're supposed to.
And if we continue to factor security into the mix, then I'm sure we can continue to reduce contamination and boost recycling rates – not just in Scotland, but also throughout the entire UK.
You can read more about our Lid in Lid and T-Lock here: https://egberttaylor.com/products/taylor-spares-accessories/lid-in-lid-t-lock/