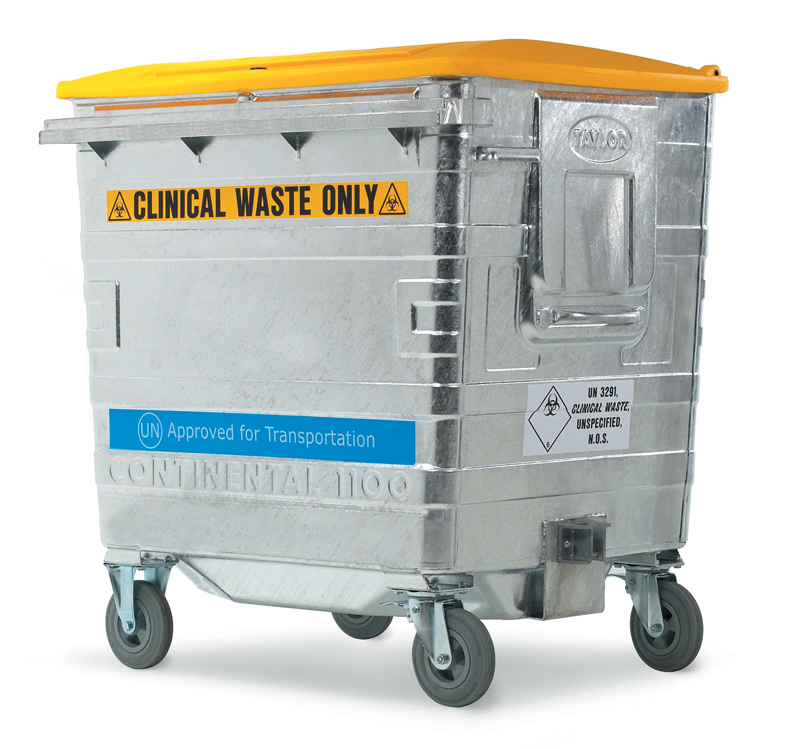 Features
Double skinned UV resistant rotary-moulded lid with optional lid lock
Comb lifting bar(frontal receiver) to EN 840-2
Facility for ID chip in frontal receiver to EN 14803
Draw-depth and shape of pressings optimised to avoid buckling/distortion of bin on impact or lifting when laden.
Heavy Duty sump base for improved rigidity and stability
Robust steel hinge bar secured by split-pin
Handles designed to EN 840 for ergonomic handling and safety keeping hands away from lifting gear
UN approved for clinical waste transportation*
Fully internally welded seams
Castors designed to protect the container from drops manufactured to Taylor's specification
Compulsory lid lock
Suitable for use in:
Hospitals
Surgeries
Care Homes
Clinics
Pharmaceutical manufacturing
Hazardous environments
Options
Din Points available as bolt-on or welded
External Fork Pockets on 1100L size only
Steel or Plastic Centered Castors
UN Approved Continental™
Designed with medical environments in mind, the UN approved range of ContinentalTM Containers is perfect as a large capacity secondary clinical waste receptacle.
Enquire about this Product
Taylor offers UN approved* 4 wheeled clinical waste containers in 820L & 1100L sizes.
Our certified in-house testing facility combined with our exceptional quality of manufacturing, which includes internally welded seams and a galvanized steel body with drop-resistant castors, create the ultimate medical waste container providing you with a large capacity solution for clinical waste from hospitals, surgeries, care homes and clinics.
Intended to be used as a secondary container to medical waste.
*Containers that meet the UN Clinical Standard, by the very definition of the standard, do not have drain plugs in the base, nor can they have foot-operated lids, drop back/drop front doors or mesh sides. If you wish to order to the UN Clinical Standard please state this in your enquiry and on ordering. Taylor can supply EN840 certified bins for Clinical use to meet your needs and with our full range of options, but unless specified as above these will not meet the UN Clinical Standard. Our standard specification (except for UN Clinical Standard) is to include a drain plug in the base of the bin and to use standard black rubber steel centred castors. Please see our UN certificates which offer a full definition of the requirements for UN approval.
Please note: that all pricing displayed on our website is exclusively for online purchases and may not apply to purchases made through other means.
Also, the lead times for orders may vary depending on specifications, ranging from 1 to 4 weeks. Our commitment is to deliver your order as promptly as possible.
Technical Specifications
This product is compatible with: